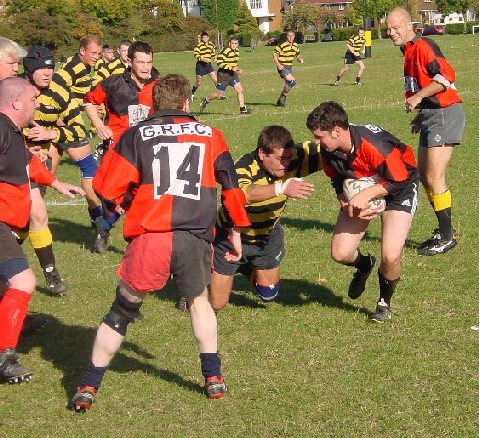 GREENWICH FIXTURES 2006-7
First Team
| | | | | |
| --- | --- | --- | --- | --- |
| Week | Date | Opponents | Home/Away | |
| 1 | 02 September | Old Wills | Home | |
| 2 | 09 September | Kings CH | Away | |
| 3 | 16 September | KENT CUP VASE | ? | |
| 4 | 23 September | RBS | Away | |
| X1 | 30 September | Bexley | HOME | |
| 5 | 07 October | Footscray | Away | |
| 6 | 14 October | Snowdon | AWAY | |
| 7 | 21 October | Edenbridge | HOME | |
| 8 | 28 October | Old Olavians 1/2 | Home | |
| 9 | 04 November | Medway | AWAY | |
| 10 * | 11 November | Old Wills | AWAY | v Argentina 2:30 |
| 11* | 18 November | Charlton Park 3 | Away | v S Africa 2:30 |
| 12 | 25 November | Kings CH | HOME | v S Africa 2:30 |
| 13 | 02 December | RBS | HOME | |
| 14 | 09 December | Old Shoots 2 | Away | |
| 15 | 16 December | Bexley | AWAY | |
| 16 | 23 December | Westcombe Park 4/5 | Home | |
| X2 | 30 December | | | |
| 17 | 06 January | Snowdon | HOME | |
| 18 | 13 January | Edenbridge | AWAY | |
| 19 | 20 January | Footscray | Home | |
| 20 | 27 January | Medway | HOME | |
| 21* | 03 February | TBA | | v Scot 4:00 |
| 22* | 10 February | Charlton park 3 | Home | v Italy 1:30 |
| 23 | 17 February | Old Wills | HOME | |
| 24* | 24 February | Kings CH | AWAY | v Ireland 5:30 |
| 25 | 03 March | Edenbridge | AWAY | |
| 26 | 10 March | East London 2 | AWAY | |
| 27 | 17 March | Edenbridge | HOME | v Wales 5:30 |
| 28 | 24 March | TBA | | |
| X3 | 31 March | Blackheath 4 | Away | |
| 29 | 07 April | TBA | | |
| 30 | 14 April | TBA | HOME? | |
| 31 | 21 April | TBA | | |
| 32 | 28 April | TBA | | |
Second Team
| | | | | |
| --- | --- | --- | --- | --- |
| Week | Date | Opponents | Home/Away | |
| 1 | 02 September | Old Wills | HOME | Squad game |
| 2 | 09 September | Askeans 2 | Home | |
| 3 | 16 September | Old Brocks 2 | Away | |
| 4 | 23 September | Met Police Crusaders | HOME | |
| X1 | 30 September | Old Dunstonians 5 | AWAY | |
| 5 | 07 October | Footscray 2 | Home | |
| 6 | 14 October | Guys Hospital 3 | HOME | |
| 7 | 21 October | Ravensbourne College | AWAY | |
| 8 | 28 October | Westcombe Park 5 | Away | |
| 9 | 04 November | Bexley 3 | HOME | |
| 10 * | 11 November | Beccehaminas 4 | HOME | |
| 11* | 18 November | Charlton Park 3 | Away | Squad game |
| 12 | 25 November | Old Brockleians 3 | AWAY | |
| 13 | 02 December | Old Alleyanians 4 | AWAY | |
| 14 | 09 December | Old Shoots 4 | Home | |
| 15 | 16 December | Erith 3 | HOME | |
| 16 | 23 December | Westcombe Park 4/5 | Home | Squad game |
| X2 | 30 December | | | TBC |
| 17 | 06 January | Old Shooterhillians 4 | AWAY | |
| 18 | 13 January | Westcombe Park 5 | HOME | |
| 19 | 20 January | Footscray 2 | Away | |
| 20 | 27 January | Bromley 4 | AWAY | |
| 21* | 03 February | Old Brocks 3's | Home | |
| 22* | 10 February | Charlton park 3 | Home | Squad game |
| 23 | 17 February | Beckenham 5 | AWAY | |
| 24* | 24 February | Park House 3 | HOME | |
| 25 | 03 March | League Cup Tournament | | |
| 26 | 10 March | from 3/3 to 14/4 | | |
| 27 | 17 March | | | |
| 28 | 24 March | see tournament sheet for arrangmements | | |
| X3 | 31 March | | | |
| 29 | 07 April | We wiil not always know whether we are H/A except in blocks | | |
| 30 | 14 April | | | |
| 31 | 21 April | | | |
| 32 | 28 April | | | |
Club Address
The Pavilion,
Old Mill Road,
Plumpstead,
London,
SE18 1QJ
Tel: 0208 854 8637
Contact
Hon Secretary: Nick Wallden
Tel: 0208 355 0019
Directions to Ground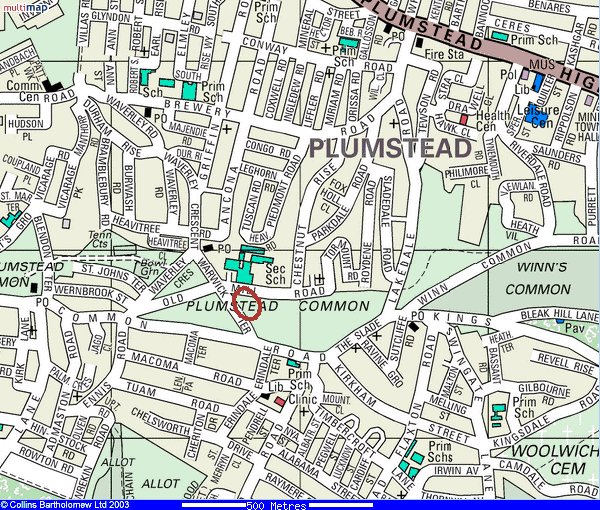 From A205(South Circular)
Take the road adjacent to the Artillery Barracks (Nightingale Place). This leads on to Plumstead Common road. After approx. 1 mile, turn left down Old Mill Road. Clubhouse is on the right opposite the Old Mill Public house.
From M25
Take A2 Junction 2 westwards for about 5 miles until you reach A205 (South Circular). Take directions for Woolwich Ferry and follow directions above.
Public Transport
Buses: 51,53 and 291 stop outside the clubhouse
Train: Plumstead: 0.6 miles
London City Airport: 2.1 miles
Training times
During the season, every Wednesday from 7:30 pm at the ground. Pre-season fitness training from July. Colts train additionally on Sunday mornings at 10 am.
Matches(1st and 2nd XV1)
Most Saturdays at 2p.m. (3 p.m. in summertime) from September until April. Colts matches are on Sundays at 11 am.
Subscriptions
Adult players: £30.00 pa
Colts: £ tba
Non-playing members: £tba
Club Honours
1989-90 Powergen Junior Vase
1998-1999 Kent Division 3 Champions (Capt. T. Murphy)
1998-1999 & 2000-2001 Shepherd Neame Kent Plate semi-finalist (Capt. T. Murphy)
Officers (2003-2004):
Chairman J. French
Hon Sec N. Wallden
Treasurer T. Smith
1st Team Capt. J Griffiths
2nd Team Capt. G. Avis
Colt's Manager tba
Player-Coach: K.Lilley
Entertainment's J. Smith
Background
Greenwich RFC (the oldest club in Plumstead) was formed in 1986 from Bloomfield and Lewisham RFC. It later incorporated STC RFC. Playing on Plumstead Common, one of the former original grounds of Arsenal FC.
Recent Tours
Lyon, Venice and Cork
Number of Hits
Counter supplied by Web-Counter